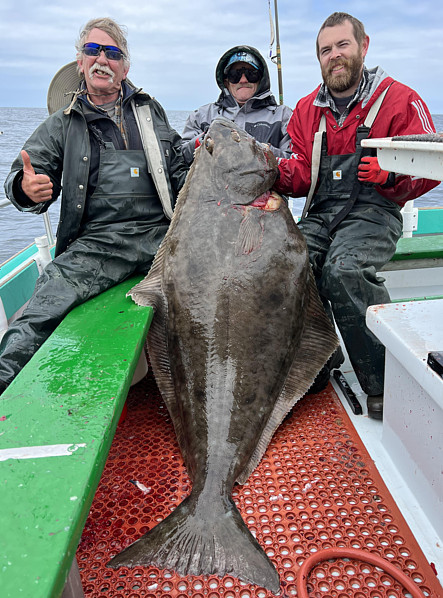 The F/V Bunny Clark (edited May 16, 2014)


Map, Directions & Location (Edited Feb 1, 2007)


Captains & Crew (Revised Feb 1, 2007)


2023 Season Reservations, Rules & Info. (Revised Jan 3, 2023)


2023 Season Schedule & Rates (Revised Jan 3, 2023)



Bunny Clark Guestletters (New Guestletter added Jan. 30, 2023)



"Tim Reidsema, Lee Dykas, Jason Ridolfi & Dennis Pietro" Photo Gallery (May 20, 2006)


Short Bunny Clark Fishing Videos(New Mar 6, 1997)


2010 Moon Phases (Revised Jan 30, 2010)


The New England Herring Problem (Who is taking our baitfish?)


Federal, State & Private Fishery Regs & Links


Favorite Bunny Clark Weather Links


Current Month Tide Chart for Ogunquit


2007 Accommodations & Services In Ogunquit Area
The digital image on the right is a shot that was taken on the marathon trip of April 27, 2023. The picture shows three anglers, friends, who booked the trip together behind a halibut that weighed 149.5 pounds. Jim Thurston (NH), in the center, caught the fish. To the left of Jim is Justin Stroup (NH). The angler to Jim's right is Neil Chamberlain (NH). This is the largest halibut that has ever been landed on the Bunny Clark . We have had others of a much bigger size that anglers have hooked in the past but were never able to get them in the boat. And, indeed, we did everything we could to lose this one as well. But it wasn't meant to be. We don't catch many halibut during a season. We only caught twenty halibut last season with only one being legal (long enough) to bring home. This season so far, we have caught two, both of legal size, both caught within ten minutes of each other. The regulations for recreational anglers using a boat to land a halibut are only allowed one halibut of legal size (41 inches) per trip. This whether the trip is a quarter of a day long or ten days. The other halibut caught soon after was a 77.5 pounder caught by Dave Burton (NH). Luckily the smaller fish was caught after the big one so that it could be weighed, a picture taken and then released alive. In the past, we would be lucky to see one or two halibut a season. During the last ten seasons, we have seen an average of twenty per season. I can only assume that the reason this is happening is because the closed commercial fishing areas are allowing the halibut to spawn and live, mostly unfettered. Since they are a much slower biting fish in the Atlantic, most aren't hooked because the other species, including haddock, cod and pollock, are much more aggressive. When the dogfish show up, it's even better for the halibut as the dogfish are so much more aggressive that, many times, you can't get the line to bottom without catching a dogfish, leaving even the ordinary groundfish less vulnerable to rod & reel fishing. Every halibut fights differently as well which makes it a much more interesting catch than the other groundfish. This one came up like a rock without taking a single run to bottom before getting up close enough to gaff. Others have taken as many a eight or nine runs to bottom before getting the fish close enough to gaff. Some we never get off the bottom which leads me to believe that they are massive fish. A friend of mine caught a halibut that weighed 627 pounds dressed (without the head or guts) on a small trawl (a longline that sets on the bottom with small hooks used to catch haddock & cod). That fish was a big female where the head, spawn sack and guts had to have weighed over 100 pounds. I've heard of halibut weighing over 800 pounds but I have never known anyone who caught one. At any rate, the halibut is a very unusual catch for any recreational fishing vessel. And it's the one fish I like to see caught most of all. This not only because they can grow huge and are exciting to catch but, also, because they are so good to eat. And, because we catch so few, eating them is very unique, in flavor and meat texture. I was wicked excited to see this fish caught. And I was so happy to have been able to help Jim land his! Special fish like Jim's are the kind of fish we like to see caught on the Bunny Clark .
Captain Tim Tower text & photo - unless otherwise noted


For information and reservations, telephone: 207-646-2214

For information and reservations:
Call: Bunny Clark, Corp. at - 207-646-2214
Write (Mailing Address): Tim Tower, P.O. Box 837F, Ogunquit, Maine 03907-0837
GPS Location to the dock: 70 Perkins Cove Road, Ogunquit, Maine 03907
Email Address (click here): bunnyclarkdsf@gmail.com
Schedule & Rates
Information & Boat Rules
For a Link To Our Favorite Restaurants, Please Click To Visit:
Barnacle Billy's and Barnacle Billy's etc.




Ogunquit, Maine.



Parts of all these Bunny Clark, Corp. web pages and, indeed, most of the innovations, means to ideas and tons of help came from Chamber Works, Inc. All rights reserved. If anybody in the world is interested in the internet, web pages or ideas for computer displays, kiosks and advertising, these are the companies to go with. Bank on it, baby! Best Fishes, Tim Tower.